Saga Castle
Saga Castle in the early years of Edo Period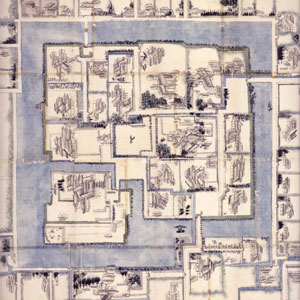 At right is how Saga Castle looked like in the early days of the Edo Period(early 17th century). The castle, surrounded by a moat around 100 meters wide, was among the largest in Japan, but most of it was destroyed by a fire in the mid-Edo Period (1726).
Saga Castle reconstructed in the last years of the Edo Period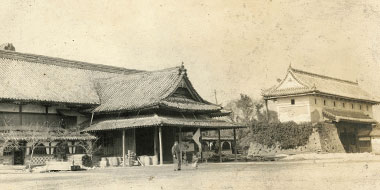 The honmaru burned down in 1726 and was not reconstructed until 1838, more than a century later, by Naomasa Nabeshima , the 10th lord of Saga Domain. In the early 20th century, most of the castle was dismantled due to deterioration.
Saga Castle at present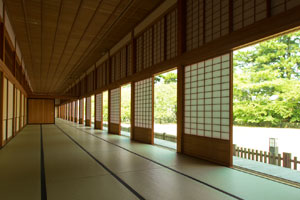 The honmaru was reconstructed in 2004 to as it was during the last years of the Edo Period, displaying a unique style of Japanese architecture such as paper screens (shoji), sliding shutters (amado) and rush mats (tatami). The highlights include a 45-meter long tatami corridor and a 320-tatami hall .
Building methods during Edo Period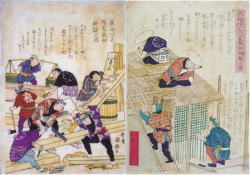 Traditional building methods of the Edo Period were employed to reconstruct the honmaru. Examples include wooden frames fitted together without nails (tsugite method) and a plaster wall which underwent an 11-step process.
Living room of the lord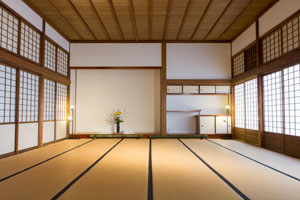 The original "Gozanoma", used as the living room of the lord, singularly escaped destruction and was used as a public hall after being dismantled and reconstructed in a different place. When the museum was built, it was moved back to its original place.
Outside landscape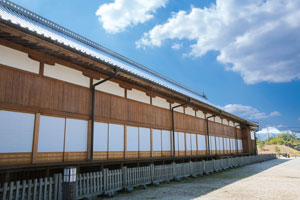 Outside, visitors can enjoy seeing "Shachi no Mon" (a gate with a fish-shaped decoration on both ends of the roof ridge that is an original component), the base of the castle tower, and a 100-meter-wide moat. Even simply sitting on the grass in the compound is very relaxing.