Saga Castle History Museum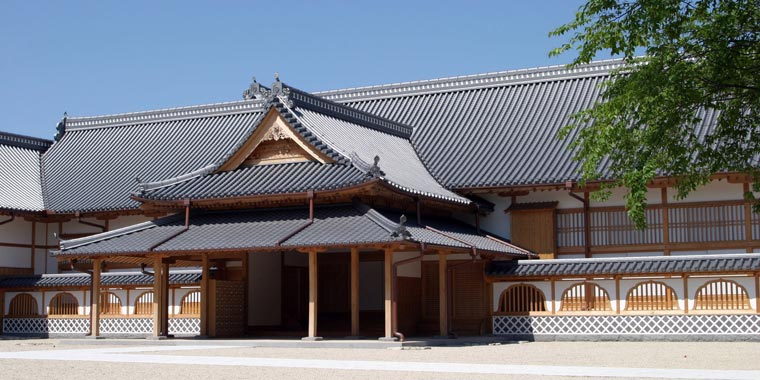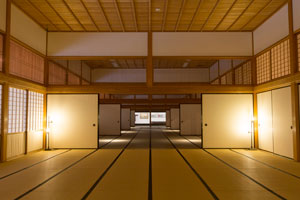 Saga Castle History Museum is a reconstruction of the main keep (honmaru) of Saga Castle built in 1838, during the last years of the Edo Period. It is one of the largest wooden reconstructions in Japan. Over 700 rush mats (tatami) are laid in the building, providing ample space for a wide variety of exhibits including data, images, and models that depict Saga during the fall of the Tokugawa Shogunate and the Meiji Restoration.
Open
from 9:30 am to 6:00 pm
Days closed
The museum is usually open year-round except from December 29 to 31. It may be temporarily closed from time to time for maintenance.
Admission
Admission is free, but a donation in an amount you choose is kindly requested.
Access
2-18-1 Jonai, Saga City, Saga Prefecture 840-0041
Area map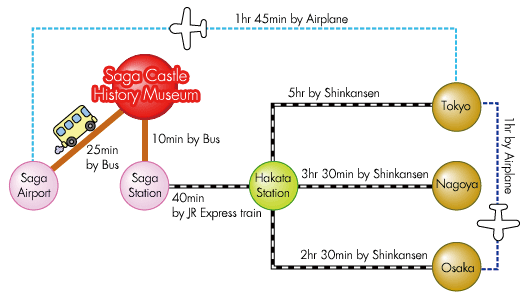 Downtown area map

If you are driving from Saga-Yamato Interchange on the Nagasaki Expressway or from Saga Airport, please download the access map from this homepage.
Surrounding area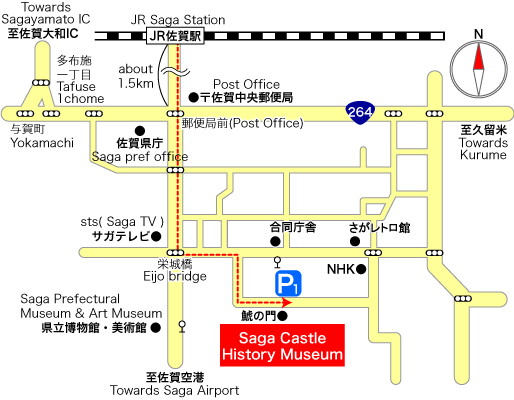 From JR Saga Station 
About 2 km (25-minute walk) 
About 10 min. by taxi (taxi fare approximately ¥1,000)
Take a bus from Gate No. 3 at Saga Station Bus Center and get off the bus at Sagajo-ato after about a 10-minute ride. (2 buses per hour/fare about ¥150)
Surrounding area
Adjacent to a natural history museum and an art museum (about a 3-minute walk)